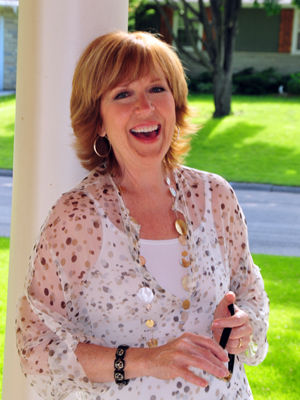 Joan Steffend
Minnesota Broadcasting Hall of Fame
Joan Steffend
Inducted 2017
Born in Cambridge, Minnesota, Joan Steffend grew up looking for ways to tell a good story, acting in school plays in her hometown, then the University of Minnesota-Duluth, summer stock and Warner Brothers Film Actors Workshop in Los Angeles.
Homesick for Minnesota, she was lucky enough to break into television news at KBJR in Duluth, then two years later found herself as a news anchor at KARE in the Twin Cities. Her goal was still to tell a good story – looking for people and stories to uplift herself and the viewers. While there, she won many awards, including a national Emmy and the Grand Award from the New York International Film Festival. Her favorite achievement at KARE was a project called "Something to Think About": 40 spots inspiring viewers to be kinder to themselves and others.
After 17 years at KARE, Joan became the host of HGTV's Decorating Cents - a design show with a 500-dollar budget and a recycling heart. That show led her to appearances on Oprah, Live with Regis and Kelly, the Today Show and more. She also hosted many of HGTV's top-rated specials – Dream Home, Dream Home Giveaway, Christmas at the White House, and The Rose Bowl Parade among them.
Still telling stories, Joan is also the author of two books.
Inducted September 30, 2017