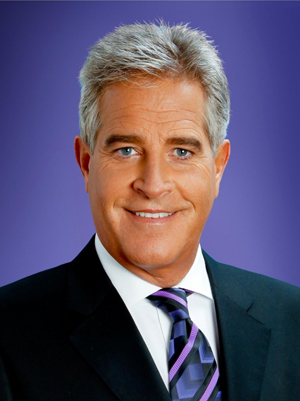 Paul Magers
Minnesota Broadcasting Hall of Fame
Paul Magers
Inducted 2017
A Santa Maria, California, native, Paul Magers began his broadcasting career as a technician, dispatcher, and producer at KSTP-TV while attending law school at Hamline University in St. Paul.
In 1979 he moved to KATU-TV in Portland, Oregon, where he began working as an on-air reporter and covered the 1980 eruption of Mount St. Helens. In 1981 he went on KGTV-TV in San Diego, where he spent two years as a reporter and anchor before returning to the Twin Cities and embarking on a 20-year stint with KARE-11 (then WTCN), and driving its ratings to Number One in 1987. In addition to anchoring the evening newscasts, he hosted numerous specials, moderated political debates, and participated in a wide variety of community events, including a 1997 telethon to raise money for flood relief in Minnesota.
In 2003 Paul moved back California and joined KCBS-TV, bringing its ratings to Number One in 2015 for the first time in 20 years.
Paul Magers is one of television's most beloved personalities, and is a recipient of many industry awards including several Emmys and a Golden Mike Award.
Inducted September 30, 2017