Of course, hardware is only part of the story of broadcasting. It's the personalities who make this equipment come alive. Preserving their history is an important part of our mission. Featured in our growing archives are the Pioneer Broadcaster Series, videotape interviews in which people like Dave Moore, Joyce Lamont, Stanley Hubbard, and many other key figures from the local broadcast industry tell their stories and talk about the changes they've seen in radio and television.

In 2001, as part of our continuing effort to preserve and promote the best of Minnesota's broadcast industry, we initiated the Museum of Broadcasting Hall of Fame. On October 13th, 2001, the inaugural banquet and induction ceremonies took place at the Radisson South Hotel in Bloomington, Minnesota. Twenty-six previous recipients of the Minnesota Broadcasters Association's annual Pioneer Broadcaster Award joined twelve new inductees chosen from the fields of ownership, management, talent, and engineering. The outstanding talent of Minnesota's broadcast community now has an institution to preserve its place in history.

Clellan Card as Axel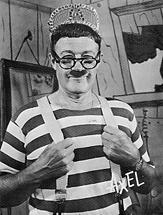 The Museum is the place to get DVDs of the Twin Cities most popular children's shows, including Axel & His Dog, starring Don Stolz and Clellan Card, Lunch With Casey, and others.

Joe Pavek
In addition, we have a vast library of technical and service information on electronics and electronic communication that is a wonderful resource for students, hobbyists and historians.
It was Joe Pavek who provided the foundation for our programming. His collection was started some time in 1946 while Joe was an electronics instructor for Dunwoody Institute.

He became concerned about some of the beautiful radios being torn-apart by the students as they learned their trade, and decided to take one home, just to save it from destruction. From that point on, he never stopped collecting.
Joe was a devoted amateur radio operator, and today his ham radio call sign,
WøOEP ("Old Empty Pockets") lives on at the Museum's club station.
Joe eventually went on to start his own business, Twin City Nut and Bolt Company on Harmon Place in Minneapolis. As his business grew, his territory expanded, and he began to call on customers in North & South Dakota, Wisconsin, Iowa and Minnesota. As he traveled through these towns, he soon discovered that if he got a haircut, he could find out virtually everything about everyone in town, including who had old radios. That's when the collection really started to grow.
Joe stored his collection at his businesses, on Harmon Place and later on Nicollet Avenue, in Minneapolis. Some time in the seventies he began to look for an angel, someone to take over the collection, house it, staff it, and keep it open to the public. By 1984, he had given up and the whole collection was set to be sold at auction.
Earl Bakken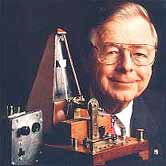 That's when Earl Bakken stepped in.
Earl is the co-founder of Medtronic and the inventor of the wearable pacemaker.
Earl put himself through college fixing radios and televisions. He shared Joe's passion for old radios and saw the potential for exciting educational opportunities that the collection provided.
Earl Bakken, Joe Pavek, and Paul Hedberg of the Minnesota Broadcasters Association got together and formed the non-profit organization that was to become the umbrella for the Museum.
Earl Bakken, Joe Pavek, Paul Hedberg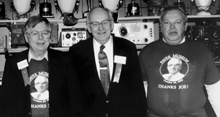 Our grand opening in October of 1988 coincided with the fiftieth anniversary of the War of the Worlds broadcast.
Paul Hedberg announces that
Gov. Perpich proclaims
Oct. 29, 1988 as
"Joe Pavek Day"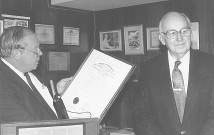 Less than a year later, in June of 1989, after realizing the fulfillment of his life's dream, Joe Pavek passed away at 81 years of age.
It was then that Earl Bakken set the course for the Museum, one that we still follow today, when he told us to use the collections to create educational opportunities for children.
We started our most popular program, the Broadcast Workshop, in the fall of 1991, bringing in elementary age school children from all over Minnesota to learn about the history of electronic communication while creating their own 1960s style radio broadcast. The learning is then reinforced with an exciting and competitive quiz show. The students and the schools love it. It's a dynamic experience supported by a unique environment. It's one of the few places in the world where students can work and play while surrounded by seminal examples of the history of electronic communication.
We're booked to capacity every year.
Since 1991, our staff has performed more than three thousand workshops for more than sixty thousand school children, usually in groups of about twenty to thirty at a time. Most are school field trips, but the program is also a favorite with Boy Scouts and Girl Scouts.

Building on the success of the Broadcast Workshops, we've added four more educational programs:
The first is called Magnets to Megahertz TM . Over fourteen Saturday mornings during the school year, a dozen gifted and motivated students learn the basics of electricity, magnetism, atomic theory, transistor theory, RF theory, and Ohm's Law, all while building their own motors, radios, and amplifiers. It's very structured, with goals, expectations and strong social reinforcement. It's a great place for gifted children to interact with their peers and form lifetime friendships. These children are among the brightest in the world. They need to socialize with each other and they need the positive experience gained by interacting with the type of high quality volunteers that we have been able to attract at the Museum.
We also offer two adult courses: Historical Perspectives and Vintage Radio Service.
Vintage Radio Service is designed for the collector and hobbyist, the person who, just like Joe Pavek back in 1946, couldn't bear to see that old radio thrown away and wants to take it home and fix it up instead.
Historical Perspectives is designed primarily for post-secondary students who are preparing for careers in broadcasting and mass communications. It offers a look at the history and the development of the industry whose future they will create. In this Information Age, electronic communication will continue to play an even bigger role in all of our lives. Historical Perspectives offers a unique opportunity to prepare for the future by understanding the past.
NOW YOU'RE TALKING!
The Technician Class License course.
This class runs ten consecutive Tuesday nights starting every January right here at the Museum.. It's sponsored by the Minnesota Youth Amateur Radio Council, The Boy Scouts, and the Pavek Museum of Broadcasting. This is a great way to get into Ham Radio. Cost is $10 per student for the class and $14 for the test. You will also need to purchase and read a copy of The ARRL Ham Radio License Manual before our first session. It's available at Radio City or Barnes and Noble. For more information, email petit@augsburg.edu
Education and preservation work together on a continuing basis here at the Museum.
Most recently, we've been working to preserve our growing audio and video archives.
This involves the restoration of a wide variety of equipment, including: wire recorders, transcription turntables, reel-to-reel audio and video tape recorders, and film projectors. We're deeply indebted to the volunteers and sponsors who continue to help us grow and serve the community.
We have wonderful collections, with many unusual items that can't be seen anywhere else.
We continue to strive to find new ways to expand our educational programs and fulfill the goals set forth by our founders. We hope you'll become a sponsor.