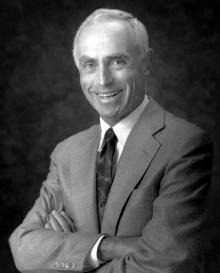 Steve Cannon
Newest Postings:
With Herb Brooks calling Gopher Hockey on WCCO-AM (830) from 1/24/1986,
part 1, part 2
Minnesota Broadcasting Hall of Fame
Steve Cannon
Inducted 2002
He called it "The Cannon Mess," but Steve Cannon's daily show was one of the most finely tuned, highly crafted, and entertaining radio programs on the dial.
Born in Michigan, he grew up on the Minnesota Iron Range. He pursued an acting career before starting in radio in Mason City, Iowa, later moving to Bemidji, Stillwater, Duluth, and Milwaukee.
He joined WMIN Minneapolis/Saint Paul in 1953, and also appeared as cowboy "Rangler Steve" on WMIN TV/WTCN TV (now KARE TV).
In the late 1950s, after working in Los Angeles and San Francisco radio, he brought his wonderful voice back to the Twin Cities, first at WLOL and then at KSTP, where he hosted the morning show for 13 years and also worked as a sportscaster on KSTP TV.

In 1971, he moved to WCCO Radio, where "The Cannon Mess" was a hit for 26 years, a record in major-market radio. Emanating from the "basement studios," the show was highlighted by his banter with Morgan Mundane, Ma Linger, and BackLash LaRue, characters that he performed himself, but so convincingly that many listeners thought they were real. He also did play-by-play for Gopher hockey and color for the North Stars.
Steve Cannon passed away April 6, 2009, at the age of 81.